Logistics and transport
Over the last sixty years, Kramp has established an effective logistical organisation. All processes are largely automated, and quality is continuously monitored. In addition to our twenty sales offices, we currently have five modern automated workshops in Europe and Russia, with a total area of 67, 500m2.
We want to provide the most reliable services in our sector, with speed and the best possible availability at the heart of this concept. We constantly strive for operational excellence thanks to our efficient processes, on-going innovations and optimisation measures, and this is also why we focus on customer requirements, achieving greater efficiency and increasing flexibility throughout the entire logistics chain.
Innovation and optimisation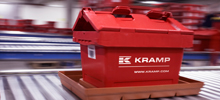 Here at Kramp, we are constantly working on optimising our processes and we continue to invest in automation and mechanisation. We measure and analyse our performance and remain open to the use of new ideas and technologies, which enables us to respond to the growth and change in our markets in the most effective way possible.
The right tools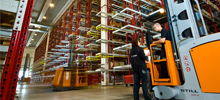 Without the right tools, achieving operational excellence is just not feasible. This is why we use the best available solutions for our company's IT systems. Our in-house IT department transforms these systems into customised solutions that really make us stand out in the market.
Quick and reliable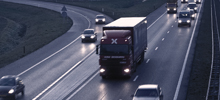 In order to guarantee a fast delivery, Kramp delivers 500, 000 items directly from the warehouse. For overnight deliveries, TNT Innight has been our trusted partner for years. For orders placed in the Benelux countries, Germany, Austria, Switzerland, the Czech Republic, Slovakia and Hungary before 6pm, the items will be delivered by 8am the following day. In France, customers using this service will receive their items by 2pm. We also deliver to the UK, Italy, Spain, Portugal and Poland.
Track & Trace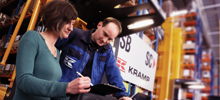 Our Track & Trace system enables us to see the exact locations of all orders at all times. In the unlikely event of an error occurring, a dedicated team within our customer service department is on hand to rectify any problems with the delivery as quickly as possible.