Your benefits
Large range of hydraulic parts
Repair, overhaul or replacement
If required, we can spray the cylinder in any colour you wish
Cylinder repair and overhaul
Our Technical Services team have been undertaking repair and overhaul work on hydraulic cylinders for many years. We have a huge stock of cylinder barrels, hard chrome-plated shafts and cylinder parts in both mm and inch sizes, enabling us to quickly carry out repairs and overhauls. We also stock a large range of hydraulic seals and can rapidly supply special, non-standard products. Want your cylinder sprayed in your company colours? We can also arrange that for you.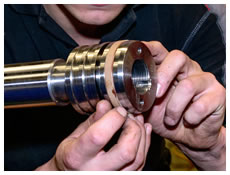 Cylinder overhaul or replacement?
Old or defective cylinders are disassembled, cleaned and inspected by our mechanics — even if the cylinder was not originally purchased from us. If the cause of the problem is found, then we will give you a quote for either repair, overhaul or replacement. You know the age and workload of the machinery so will then be in the best position to make the right choice based on the costings we provide.
Your cylinder on the test bench
Sometimes replacement of the seals is all that is needed, but in other instances replacement or new chrome-plating of the piston rod or honing of the cylinder barrel might be among the options. We carry out any repairs in our own workshop, which is equipped with modern machinery and test facilities. All cylinders are tested on our test bench before leaving the workshop. We provide you with test reports showing the pressure profile in the cylinder.
Repair, overhaul or replacement? Based on our quotation, you can make the right choice every time.
Large range of hydraulic parts.
Rapid delivery of specials.
If required, we can spray the cylinder in any colour you wish.
Would you like further information?
Please contact your account manager at Kramp with any questions about the repair or overhaul of hydraulic cylinders.