Close relationships with customers and continuously optimising processes
We want to build a close relationship with our customers in all of the countries in which we operate. We are continuously working to optimise our processes and services in order to meet your requests and requirements.
In addition to a wide range of stock with short delivery times, we also offer expertise, solutions and concepts provided with on-site support. Our strategy sets out the six main points that we want to use to achieve our objectives.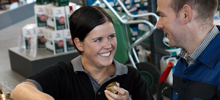 Growth
Using our large, international network of dealers, we want the products from our range to reach more and more end customers across the globe. One of the solutions that we developed with this aim in mind is the Kramp Online Service, which puts you as a specialist dealer in direct contact with the end customer. As well as spare parts, the concept also includes support services, such as marketing. The main aim is to provide you as a dealer with new opportunities and increase your turnover.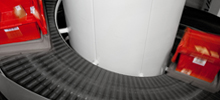 Operational excellence
Our aim is to make your work as easy and efficient as possible. We also want to offer the most reliable service in our sector. Speed and maximum availability of our product range are key to achieving this, which is why we focus on your requirements, greater efficiency and more flexibility throughout the entire logistics chain.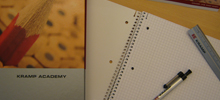 It's all down to the people
Investment in individual development is a key requirement for future growth. This is the only way we can build on and reinforce our added value in the long term. We encourage our staff and customers to learn, take part in training and be the best that they can. The Kramp Academy offers practical training and development programmes that are tailored to your exact requirements.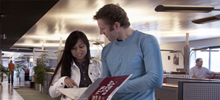 Well-balanced financial policy
Entrepreneurship is a key factor in our success, as is confidence in our own strength and a solid, well-balanced financial policy.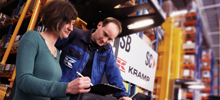 Corporate social responsibility
Corporate sustainability cannot be achieved by chance — structural awareness is required from every individual. In everything we do, we consider the effect on company profit, people and the environment (planet). "Sustainable" means choosing to have a positive effect in the long term, and this is why we want to establish long term partnerships with customers and suppliers.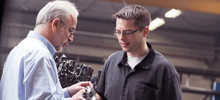 Think global, act local
We want to go beyond our limits. We also literally go beyond borders as, in addition to our 20 branches in 16 European countries, we also have branches in China and India. Thanks to our leading position on the market, we have been able to establish a closely linked distribution network. We can deliver over 150, 000 items straight from our warehouses and even the very same night that you order.
Personal contact
Despite the large scale of our activities, we want you to see us as a local partner with personal and direct contact in your area. Sharing expertise, specialist knowledge and experience throughout our international organisation also enables us to provide outstanding service at a local level.