Finger weeder - achieve the best results with proper adjustments
Peter de Haan
|
6 minutes to read
Finger weeders are the little helpers in cultivation. Whether row or special cultures - they bridge the gap that cannot be reached by the metal shares. Soil-driven plastic fingers work the soil in the row of plants and thus remove freshly germinated weeds without damaging the crop. Different flexibility levels and various diameters from 25 - 37 cm make the finger weeders extremely adaptable and versatile. However, precise adjustment is crucial for successful mechanical weed control. In this article we help you to properly adjust your finger weeders step by step.
Step 1: Choose the right finger weeders
In order to achieve a high weed control efficacy, it is important to choose the right type and size of finger weeders. Read more about it in our article "How to choose the right finger weeder"
Step 2: Adjust the weeding intensity
The intensity of weeding is adjusted by the distance of two parallel-mounted finger weeder elements (A and B).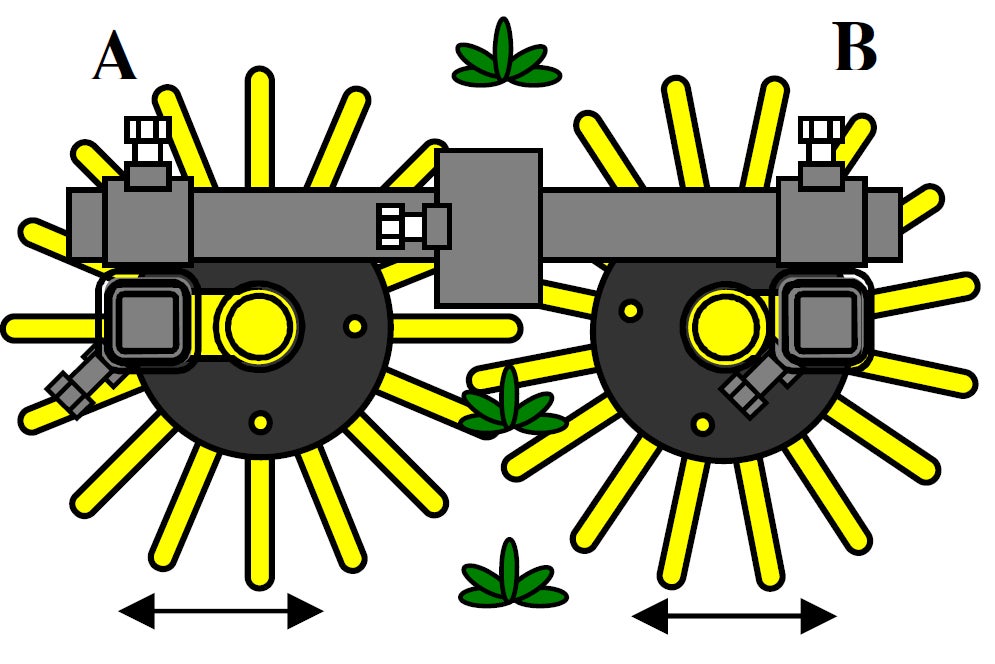 With the Maxi models, the intensity is linked to pressure on the ground (1.) the distance between fingertips and crop row (2.) and the angle between the finger star and the ground surface (3.).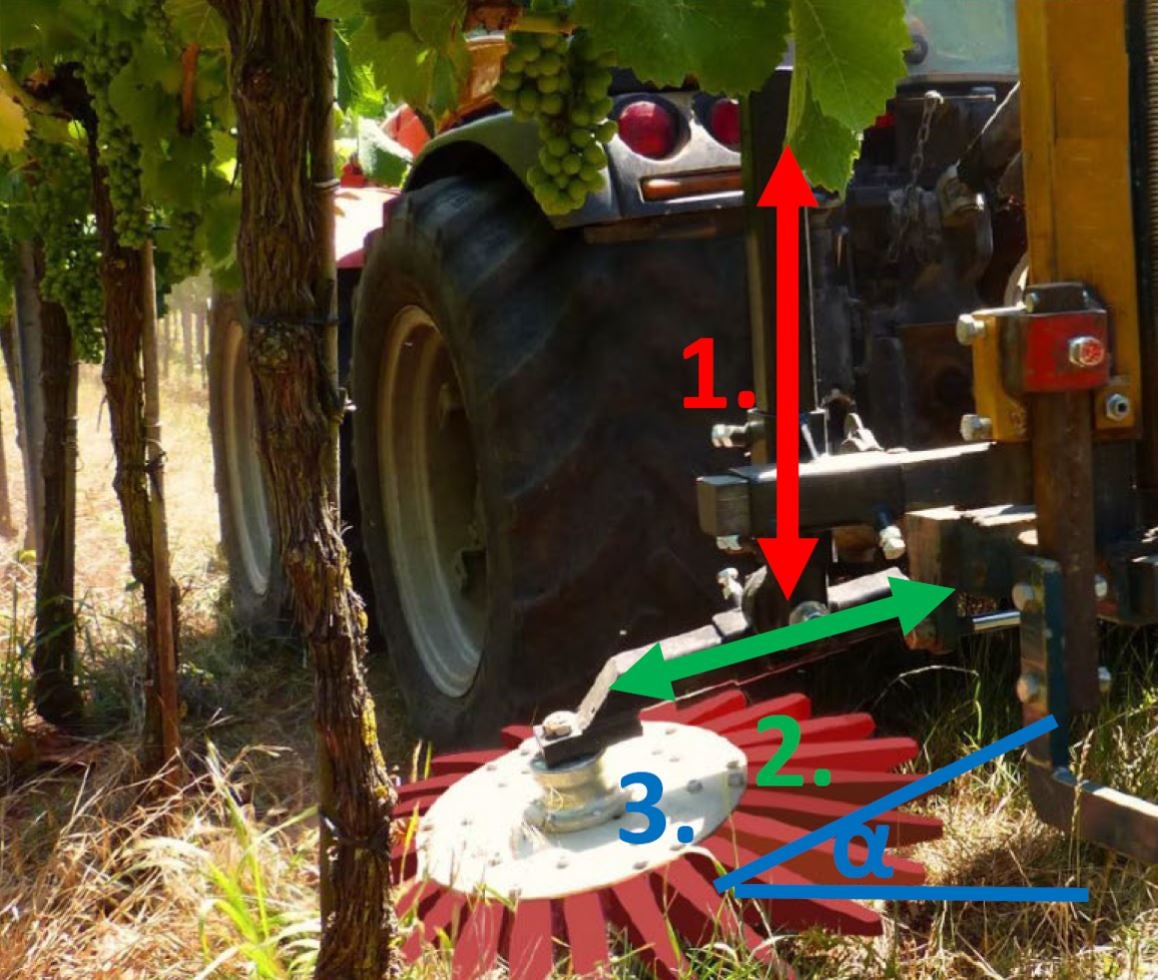 Weeding intensity: Distance and angle
For field crops and vegetables, the finger weeder elements should be mounted at the same lateral position next to each other, in order to guide them permanently at the same height level. Hereby, the pressure from the left and right finger star to the crop shoot and the root area is always even from both sides. The Maxi models are mounted on the outside of a tractor-attached weeding frame, working in different rows left and right of the tractor. They can also be used just one-side mounted.
Step 3: Adjust the pressure towards the ground
The pressure of the finger weeder elements to the ground is an essential factor: Only if the angled finger disc is pressed towards the ground, the fingers will be bent against the driving direction. This leads to a soil pillow between fingertips and crop shot and therefore enhances the selectivity of weeding.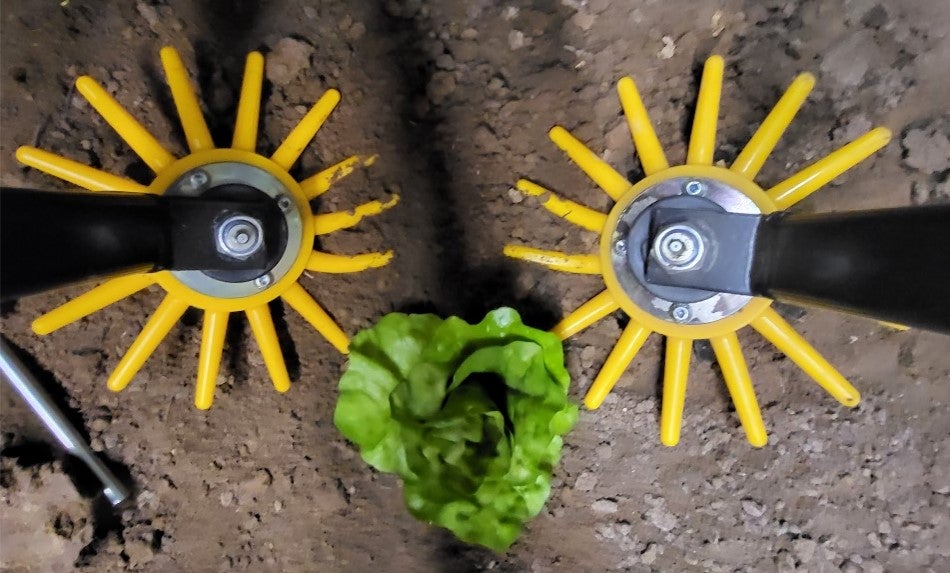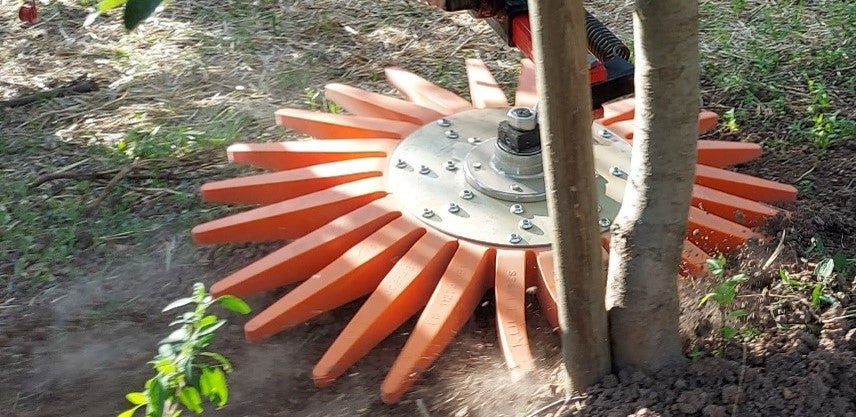 Setup: Pressure towards the ground -> bending of fingertips
Step 4: Adjust the driving speed
The driving speed is another influencing factor of the weeding intensity. It is important to always use the highest possible working speed to gain a fast spin of the finger weeders. While the driving speed in the younger growth stages of the crop should be set slow (on average around 3 km/h), in later growth stages it can be set up to 30km/h.
Questions?
Please do not hesitate to reach out to a Kramp product specialist to find out more about our finger weeders. Alternatively, you can contact a Kramp dealer near you or send us an email at knowledgecenter@kramp.com.