Grammer Tractor Driver Seats - A handy Checklist for Repairs and Servicing
Editorial team
|
4 minutes to read
Two considerations matter most for farmers when they're in their vehicles: safety and comfort. As tractor driver seats have become more advanced, additional features have made working life easier for farmers spending long hours at the wheel. Of course, more features and controls mean more elements in the seat that can go wrong or require replacing. Yet the reality is that many farmers will prioritise their work over their safety and comfort; tractor seat maintenance is a job that gets put off. And that can have serious, negative outcomes for drivers. It's a good idea for you to remind vehicle owners of the risks to their safety, and short- and long-term health, if they don't have their seats checked and repaired regularly. Fortunately, leading vehicle seat manufacturer Grammer has teamed up with Kramp to create a handy seat checklist for you and your customers to use when repairing and servicing driver seats for tractors and other agricultural or commercial vehicles.
Almost 70 years ago, Grammer began making tractor seat cushions. Since then, the company has designed and fabricated seats for every commercial vehicle you can think of. You'll find Grammer driver seats on agricultural, grasscare and construction vehicles of all kinds. The company's creative designs and innovative technology emphasise the important of ergonomics, comfort and functionality, reducing the risk of neck or back injury for drivers at work.
Your customer's driver seat is no afterthought.


Rating Plate – What Does it Say and Where can you Find it
It all starts with identifying your seat, which is an easy thing, if you know where to look. You can find all this information on the rating plate that is located on the front middle of the lower part at the suspension and on the back of the seat frame.

The rating plate shows the following information (example):
| | | |
| --- | --- | --- |
| (A) DESIGNATION | = | MSG95A (L) |
| (B) INVENTORY NO. | = | 140 534 |
| (C) YEAR/CW/ASSEMBLY | = | 0422 031 |
| - year of manufacture | = | 04 (2004) |
| - built in week | = | 22 (May) |
| - assembly | = | 031 |
| (D) ORDER NO. | = | DE 42844300080 |
The Driver Seat Repair and Servicing checklist
Grammer's seat checklist shows you and your customers exactly what to look out for when inspecting cab seats, so you can maintain them to the highest standard.
Download the driver seat checklist now and make it available to every mechanic in your workshop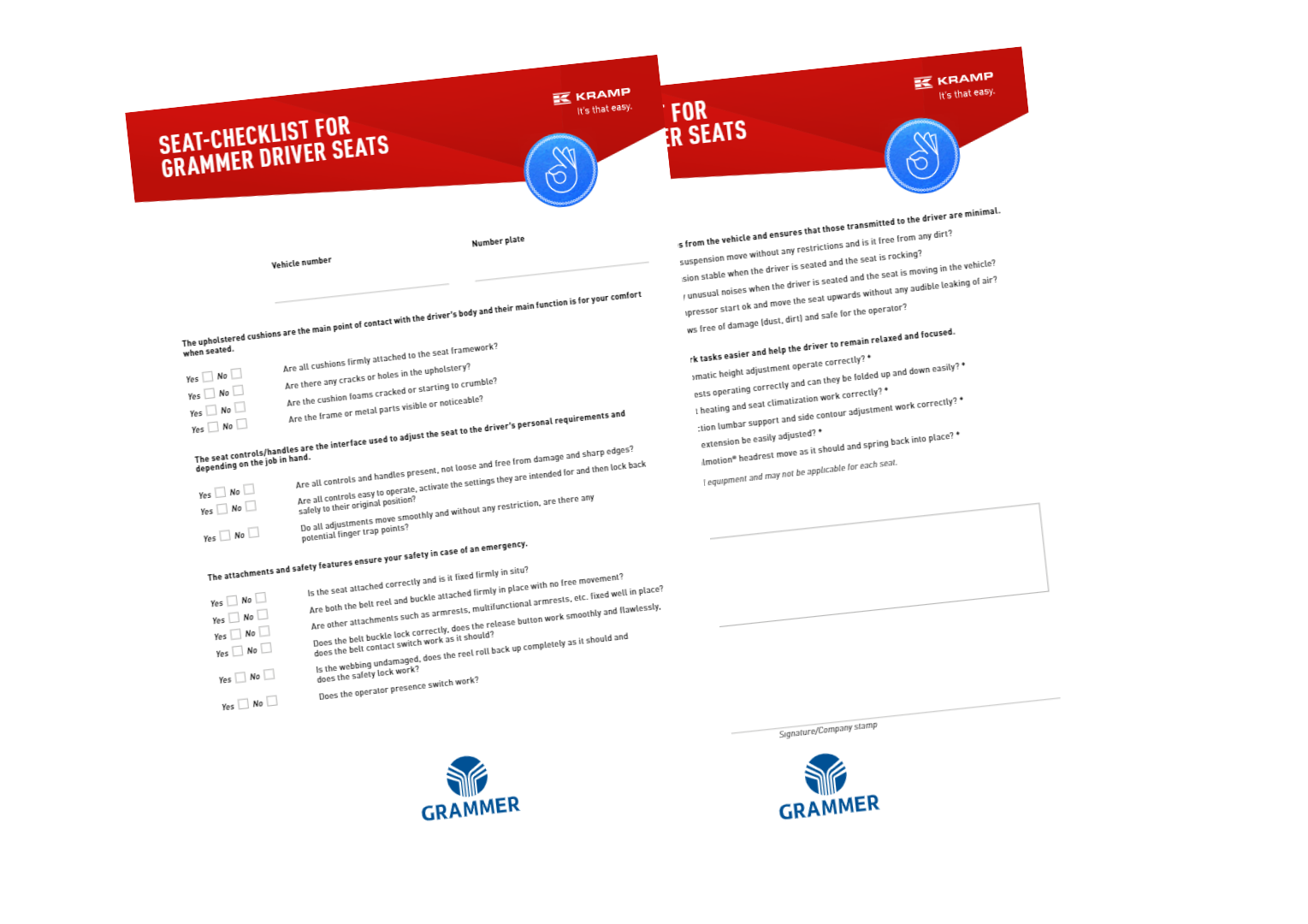 Make servicing driver seats easier, by downloading your PDF copy now. Email a copy to customers as a reminder; print and stick copies up in your workshop; add it to service books; you can even use it to guide regular workshop training sessions.
The downloadable PDF covers all the main areas of seat inspection, maintenance and repair:
Upholstered cushions, for attachment, condition and comfort.
Seat controls, in terms of performance, ease of use, safety and damage.
Attachments and safety features, to ensure all elements are performing perfectly to protect the driver.
Suspension – that vital factor in preventing injury and delivering comfort – in terms of cleanliness, stability, performance and damage.
Comfort features, including checks for all moving parts and seat functions.
The PDF also features a space where mechanics can make notes and make recommendations for repair either now or at the next vehicle service.
Replacement Driver Seats and Accessories for Agriculture, Construction & Grasscare
Kramp partners with Grammer to provide you with official Grammer aftermarket products and spare parts for tractors, agricultural machinery, construction machinery and grasscare vehicles. The Kramp web shop also features a wide range of compatible seat parts and accessories.
In the unlikely event that you cannot find or source the necessary spare part for a Grammer seat you are repairing – or any other agricultural equipment parts – please contact your Kramp account manager or dealer as soon as possible. We'll do our utmost to track down everything you need to get working vehicles back to work.
If you have any questions, please contact your Kramp representative or product specialist. Or find a dealer in your area.
Any other questions, please contact us at knowledgecenter@kramp.com. We are happy to help!