How do you avoid overloading your system when using LED work lamps?
Editorial team
|
6 minutes to read
These days, we work longer and longer and good light is increasingly important in most situations. Precisely because lighting is so important, we are replacing existing halogen and incandescent lamps with LED technology. LED technology is much more efficient, provides better lighting and also has a pleasant colour. LED lighting is efficient, but there are a number of points to consider when installing LED lamps. Especially when several lamps are connected. In this article, you can read about how to prevent your system from becoming overloaded.
How can we avoid this and how can we ensure that we do not overload the original wiring?
Imagine that you have an installation with several 30 watt halogen lamps. You want to increase the number of work lamps and also convert them to LED lamps with a higher output. We will discuss two factors that you should take into consideration.
The existing wiring is designed for standard lighting. We therefore need to make sure that there is no overloading that will cause switches or wiring to become overloaded. It is therefore important to ensure that we stay below the permissible load of the standard installation. Please refer to the heading 'How do we use a relay when connecting several lamps?'.
Good to know: the multi-light switch on Fendt tractors, for example, is known to cause problems when heavier work lamps are installed. The use of a relay is also the solution to this common problem.

Another factor to consider is the cabling used for lighting. If we connect an additional power supply from the source (battery), it is important that we use ample cabling. Please note that every coupling creates additional resistance. Use good plugs that can handle sufficient current. If cables need to be extended, make sure they are well connected. You can do this by soldering (for example by using cable connectors) or by using sturdy connectors that are resistant to the environment (water, oil and dust). A terminal block is a short-term solution (😉).
Read more here about how to choose the right cable for your 12V installation.
How do we use a relay when connecting multiple lamps?
To select the right components, it is important to know how much power we want to connect. Add up all the wattages and divide this by the supply voltage (12/24V). This gives us the number of amps we will be using. All electrical components are often expressed in amperes, hence this calculation.
Example: we want to replace 4 pcs of 30 watt halogen lamps with 4 pcs of 45 watt and 2 pcs of 60 watt LED work lamps. This will results in 4x45+2x60=300 Watt (300/12=25A) in the new situation compared with just 120W (120/12=10A) in the old situation. This does not seem much, but it can have consequences for the original wiring. It is now wise to lay an additional power cable with a relay to these new lamps. If six metres of cable are required from the source, we need to use 3.5 mm2 cable. Of course, we also need to make sure that there is a good fuse as close to the source as possible. Choose a good fuse box that is resistant to moisture, oil, dust and vibration. For example, the DE12033769 + DE12033731 + 2x DE12066614 or SI20153A.
Another factor to consider is the routing of the power supply cable. Make sure that it is not damaged by sharp edges and that it is not affected by vibrations or movement of the machine. Use a protective tube where necessary. Now we have to fit a relay in a suitable place. Here, a control voltage comes from existing wiring and we switch a newly laid supply cable to the lamps.
Use a 30 A relay for this, for example. This can switch a maximum of 20 amps, which is more than enough for this purpose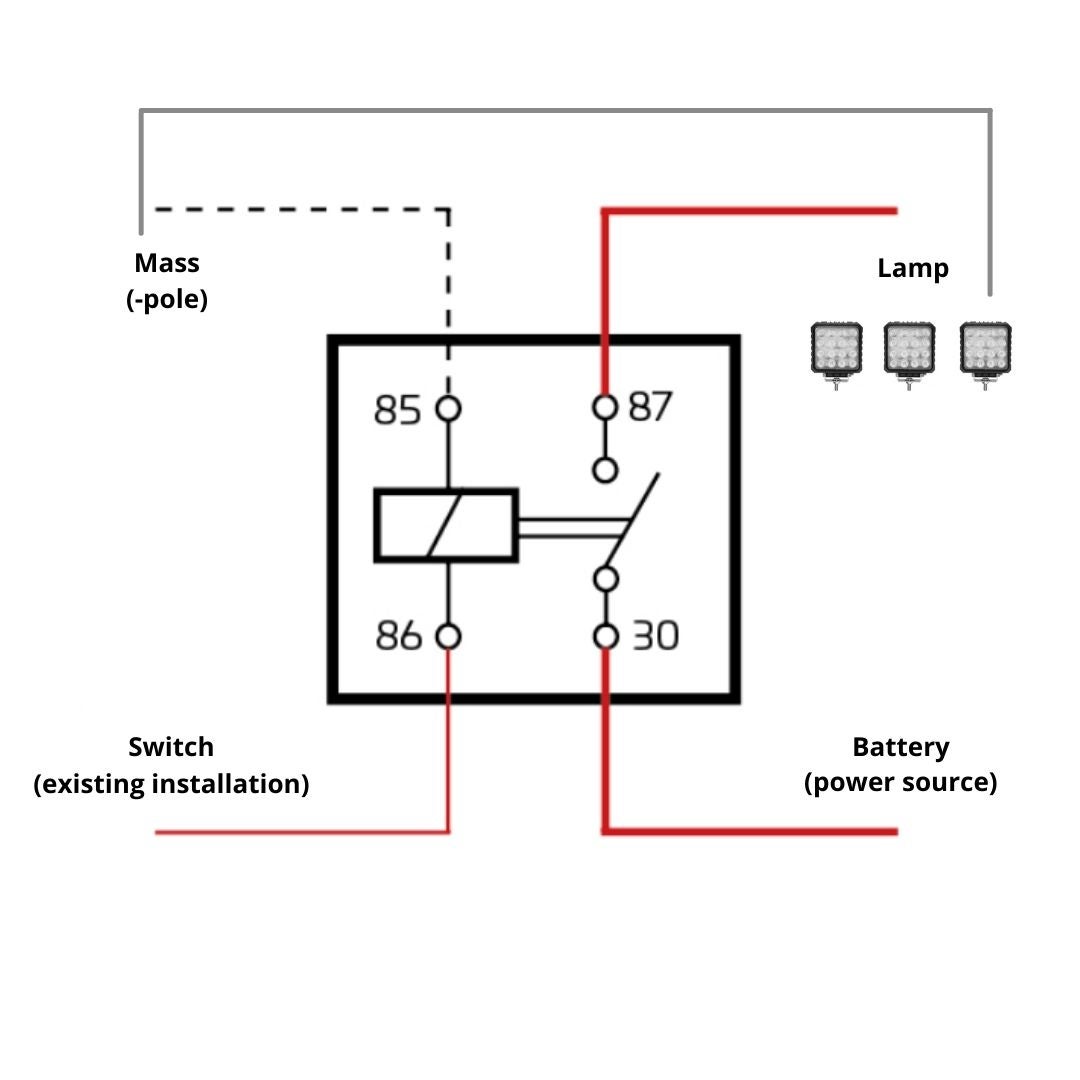 Kramp's product range includes a connection set especially for work lamps. This can switch a maximum of 2x100 watts (12V) | 2x200 watts (24V). Deutsch connectors are already fitted as standard and these fit many Kramp work lamps.

Relee 1605WK031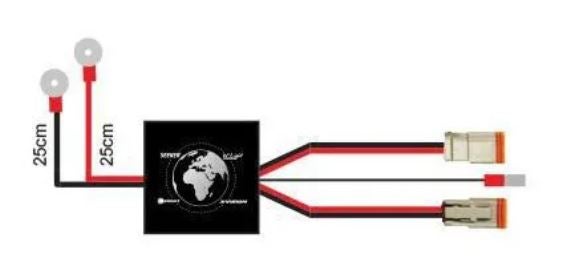 Relee 1605WK032