Types of belts, when to use them, and where to find them
Editorial team
|
7 minutes to read
In a machine or vehicle, the engine features a number of belt drives – each an endless loop, which is then fitted over pulleys to transmit power. Different machines feature different sorts of belts – not just different sizes - to perform different, specific functions. And because every vehicle, whether that's a harvester, a tractor, a truck or a mower, has its own uniquely configured engine, it's important to understand the types of belt, when to use them and where to find them on the Kramp web shop.
One of the world's leading suppliers of high-performance belt drives is Optibelt. Formed 150 years ago, Optibelt began producing V-belts back in 1948. Today, the company designs and manufactures the most durable belts available for multiple sectors; as well as the agricultural technology, forest and grasscare, automotive and construction industries, its products can be found in manufacturing, the cement industry, logistics, packaging and plenty more. With the maxim 'Passion meets precision', we knew Optibelt was a source of expertise for this article about the different types of belt and when to use them.
Below, we give examples of classic V belts, wedge belts and raw edged cogged belts. Finally, we will explain how to search for compatible belt drives on Kramp's web shop. It's worth noting that – as with any other parts which may suffer wear and tear – the difference between cheap drive belts and high-performance drive belts like those from Optibelt is in the engineering design, construction and raw materials used. The old adage that buying cheap means buying twice is true – and doesn't take into account the cost of having your machine out of action more frequently or potential damage suffered to the engine when a substandard belt fails!
VB – Classic V Belts
V belts offer good traction, speed and a long service life. They're easy to install and require no lubrication of any sort. The cross-section view is trapezoidal – lending the belt its V name – and because it sits in a groove on the pulleys, they're slip-resistant and give good torque.
For these reasons, they're the most common type of drive belt, with a wide range of applications. You will find them in agricultural machines, mowers, industrial uses and more, particularly older machines.
You can identify the correct V belt by referring to the diagram and chart below. Cross-sections are identified by top width and the depth dimension.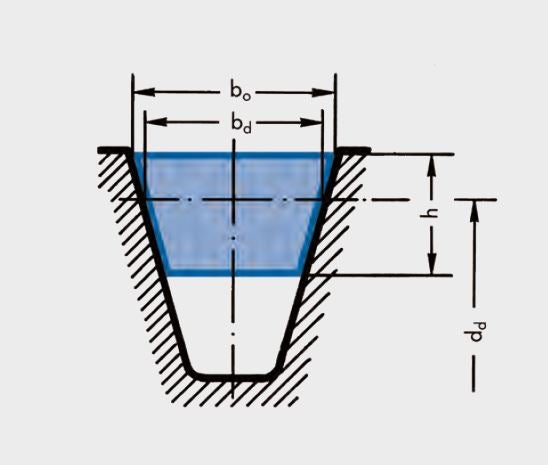 You'll find a wide range of V belts from Optibelt available from Kramp here.
Wedge Belts
Wedge belts are very similar to V belts, but feature a narrower, wedge shape to the profile. That narrower profile means they're often used when space is limited, but power is important – they can transmit more power than a V belt of the same top width.
Optibelt's SK wedge belt is particularly low-stretch, meaning that they can provide better performance than the DIN 2215-standard V belts of the same width.
You can identify the correct wedge belt by referring to the diagram and chart below. Cross-sections are identified by top width and the depth dimension.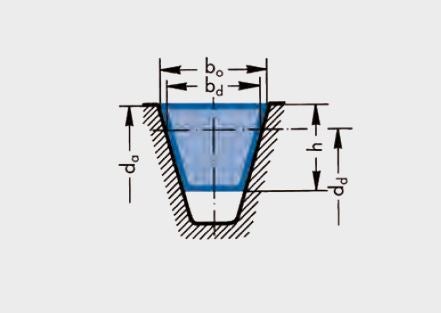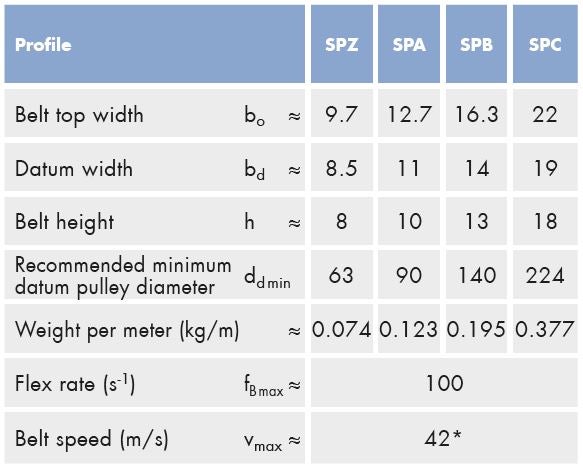 Explore the range of wedge belts available in the Kramp shop here, including Optibelt belts with profiles SPZ, SPA, SPB & SPC.
Raw Edge Cogged Belts
The raw edged belt, or cogged belt, is a type of V Belt. The obvious difference is that the cogged belt features cogs built into the bottom section. Unlike V belts, which are wrapped in fabric, the outer edge is left exposed – hence the term 'raw edge' - for better grip.
They're perfectly suited for applications that demand:
Small pulley diameters
Greater flexibility
High rotational speeds
High power transmission
Smooth running
High and low ambient temperatures.
As such, you'll often see them used in fans, pumps, compressors, compactors, high-performance saws and special machines.
When deciding the right Optibelt raw edge cogged belt, refer to the Super X Power and the Super TX Power guide tables below.
Super X Power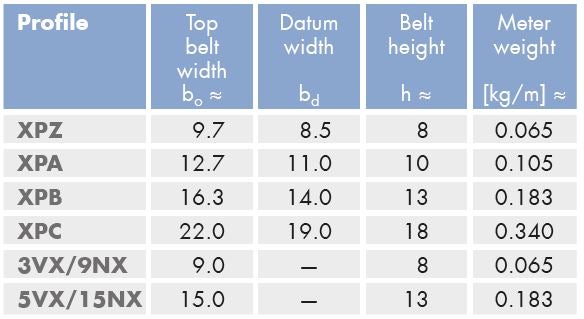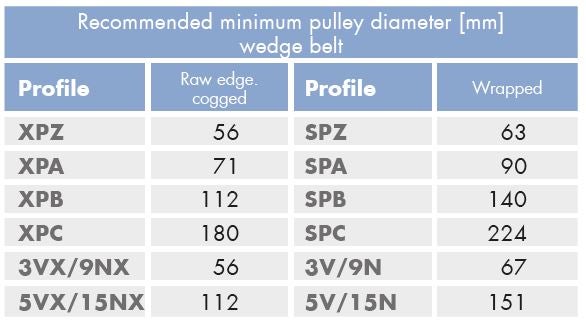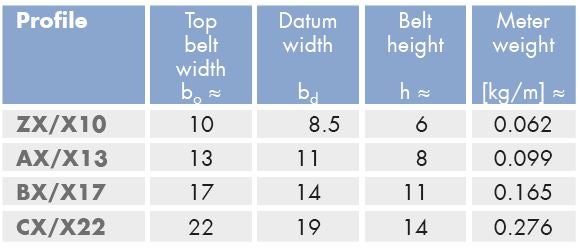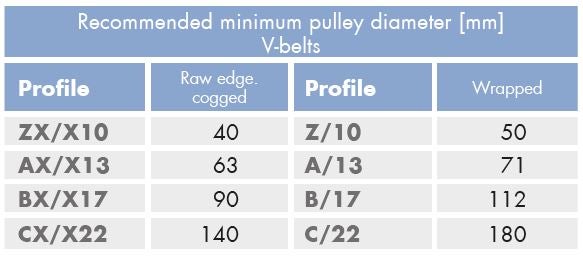 Explore the ranges for the Super X Power here and the Super TX Power here.
How to identify the right belt drive and find it on the Kramp web shop
If your existing belt is still showing the brand, profile, size and lengths (datum or pitch length (Ld or Lw) in mm; inside circumference length (Li) in mm), locating the right replacement drive belt is easy. Use the profile type and designated length (eg, B240, A45 or C58) to narrow down your search in the web shop.
Remember, if you're still unsure at any point and would like expert advice on choosing the right drive belt for your machine, contact your Kramp representative. We're always happy to make your life easier.