What should you pay attention to when choosing the right work gloves?
Annemiek Dubbe
|
6 minutes to read
Earlier we told you why work gloves are so important. In order to determine which work gloves offer you the best protection, you need to consider not just the industry in which you work, but the conditions in which the gloves will be used. Take a look at the step-by-step plan below to guide your decision-making.
Step 1: Choose the right application
It is important to combine the right application with the right environmental factors. Are you looking for forestry gloves or electric gloves? Do you mainly work in the heat or in the cold? In our web shop you will find a wide range of gloves, for all possible purposes.
Step 2: Choose work gloves with the right properties
In addition to properties such as good grip, water-repellency and superior protection against the cold, different gloves may feature a number of other properties which prove invaluable.
High dexterity
Some activities require particularly high dexterity, such as precision work during assembly or installation of parts, or painting a window frame. Finger-sensitive gloves will make this sort of work far easier and more accurate.
Cut-resistant work gloves
In many work environments, employees run the risk of sustaining cuts and wounds to their hands. If your work requires high cut resistance, for instance if you work in the glass, metal and steel, automotive or offshore industries, explore our range for the right gloves for your exact environment.
Heat-resistant welding gloves
It is a legal requirement that welders wear protective, flame-resistant gloves. Excellent heat resistance is of course the primary property of these gloves. Keep in mind that the material of a welding glove has to offer more than just the standard protection: these gloves need to protect against cuts, flames, heat and sparks.
Single-use gloves
For hygiene reasons, single-use disposable gloves are often used when working in the dairy, medical and food industries. These are available in various sizes and are typically made of latex, nitrile or vinyl.
Gloves for general use
General-purpose work gloves are thin, flexible assembly gloves that retain a high level of fingertip sensitivity. Some feature partial leather construction for enhanced protection.
Step 3: Choose the right material
Do you opt for a PU work glove from Kramp Protect with an oil, fat and moisture-repellent nitrile foam coating, or do you prefer to wear a polyester glove with cowhide leather on the palms? The right material ensures safety and a high level of wearing comfort, making the job easier! Each type of work glove may offer differing material options, so take your time to choose not just the right characteristics for your working environment, but the material which suits your priorities.
Step 4: Choose a glove that meets the correct standard
There are European directives on the quality of work gloves for each type of use. Most work gloves are tested for mechanical conditions, such as abrasion resistance, cut resistance, tear resistance and stitch resistance. These requirements are defined in the European Directive 89/686/EEC. All personal protective equipment (PPE), including gloves, must comply with these directives in order to be CE marked. The European directive is based on three risk categories:
Category I - minimum risks;
Category II - risks other than those listed in categories I and III;
Category III - risks that could have fatal or irreversible consequences.
For category I gloves, internal production control by the manufacturer is sufficient. In the case of PPE in categories II and III, the CE marking is subject to type approval. You can find further guidance in this PDF from the UK Health and Safety Executive.
Mechanical risks
The standard EN-388:2016 guarantees the safety and quality of products and services. Work gloves must comply with these standards and are tested for resistance to abrasion, cuts (2x), tears, punctures and impact, which allows you to judge which hazard the gloves will protect you from – and to what extent.
This can be seen on the glove in the combination of letters and numbers below.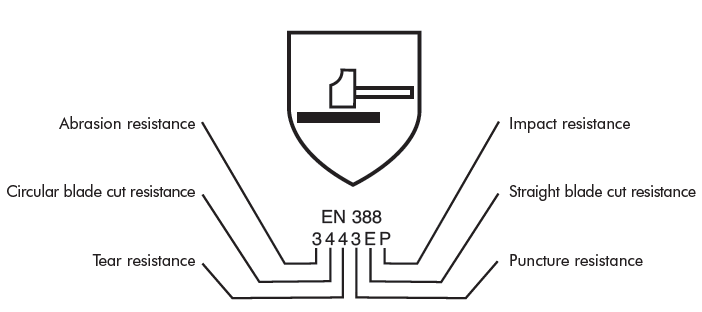 Abrasion resistance (scale 0-4)
Circular blade cut resistance (scale 0-5)
Tear resistance (scale 0-4)
Puncture resistance (scale 0-4)
Straight blade cut resistance (A-F)
Impact resistance (P of 'pass', but only when the requirements are met)

Thermal risks
Standard EN-407:2004 specifically looks at the thermal performance of gloves (heat and fire). Gloves that comply with this standard also contain at least the minimum protection (level 1) for abrasion and tear resistance (EN-388). For the purposes of this standard, gloves are tested for resistance to fire, contact heat, build-up heat, radiant heat, small particles of molten metal and the amount of molten metal.
Cold risks
Gloves complying with standard EN-511:2005 meet the requirements for protection against cold. These gloves are tested for two cold situations: penetrating or building up cold and contact cold. Water permeability is also considered.
Chemicals and micro-organisms
EN ISO 374:2016 tests how long it takes for certain chemicals and micro-organisms to penetrate the gloves.
Electrostatic properties
Good antistatic gloves comply with standard EN16350:2014. The gloves have been tested under a temperature of 23°C, with an air humidity of 25%.
Contact with food
The EU has adopted directives (EC/1935/2004) for materials in contact with food. Materials, including gloves, must not alter food in a way that endangers human health. Equally, they must never change the composition of the food or affect its taste and smell. Make sure that any food-handling gloves you buy are proven to meet this standard.

Always check that the work gloves you choose are certified to the right standard
The test results can help you make the right choice. Keep in mind that gloves are tested in laboratories: the actual conditions of use cannot be reproduced with perfect accuracy.
Step 5: Choose the right size
It almost doesn't need mentioning, but picking perfectly fitting gloves makes all the difference. The right fit ensures that you can easily grip small items and retain maximum grip strength and dexterity. Gloves with a good fit mean your hands won't suffer fatigue as quickly during prolonged wear.
Where to buy your work gloves
The Kramp web shop has a large range of work gloves for all purposes and environments. If you still have questions about choosing the right work gloves, just contact our product specialists directly or send us a quick email to knowledgecenter@kramp.com.