What to Keep in Mind when Choosing a Bearing
Editorial team
|
6 minutes to read
Bearings support rotational or linear movement, reducing friction between moving parts and improving the speed and efficiency of motion. They allow components to turn in relation to each other and transmit force by rolling or sliding, depending on the type of bearing. They are specified with pinpoint precision and when choosing a replacement bearing, observing the machine manufacturer's choice is vital for optimum performance and longevity. What do you need to know to choose a bearing? Read it here!
What are the Most Common Types of Bearing?
Deep Groove Ball Bearings
Deep groove ball bearings are the most commonly used ball bearing worldwide, appearing in electric motors, compressors, conveyors and fans. They have deep raceway grooves, which allow them to support higher loads, and support both radial and axial loads.

Cylindrical Roller Bearings
With a cylindrical roller bearing, the cylinders are used as the rolling elements. This gives them a larger linear contact area with the outer ring, with the load distributed across a greater surface area. They may be open or sealed. Their high radial load capacity makes them suitable for high speeds, and they can be found in crushers and other construction machinery, electric motors, gears, drives, fans and blowers, various pumps, traction motors and machine tools.

Self-Aligning Ball Bearings
Self-aligning ball bearings feature two rows of balls. They may be open or sealed. They are designed for various levels of axial load application, relatively heavy radial loads, and are designed to handle angular misalignment of the shaft with the housing.

Self-Aligning Roller Bearings
Self-aligning roller bearings are extremely similar to self-aligning ball bearings, but feature two rows of rollers rather than balls. They can be open or sealed. They are designed for various levels of axial load application, relatively heavy radial loads, and are designed to handle angular misalignment of the shaft with the housing.

Tapered Roller Bearings
Tapered roller bearings have a cup (outer ring) and cone (inner ring, rollers and cage) assembly. They have tapered outer and inner ring raceways, with tapered rollers between them. They can take combined radial and axial loads, generally at lower to moderate speeds. They can be found in hoisting equipment, rolling machines and vehicle wheel bearings.

Thrust Bearings
A thrust bearing allows rotation between parts while resisting thrust, but with the primary purpose of supporting axial load. They may feature balls or rollers. They can be found in gear boxes, fluid control valves, power drills, propellers and spinning shafts.

Needle Roller Bearing
A needle roller bearing is a type of roller bearing, using cylinders long and thin enough to look like needles. They are used widely in vehicle components like pumps, compressors and transmissions.

Bearing Blocks
A bearing block consists of a housing with a bearing mounted in it. It is designed to provide support for rotating shafts, aided by other accessories and bearings, usually for low-torque, light-load applications.
Usually, if the bearing must be capable of taking large forces, it will be a roller bearing. If it has to cope with high speeds, it is more likely to be a ball bearing.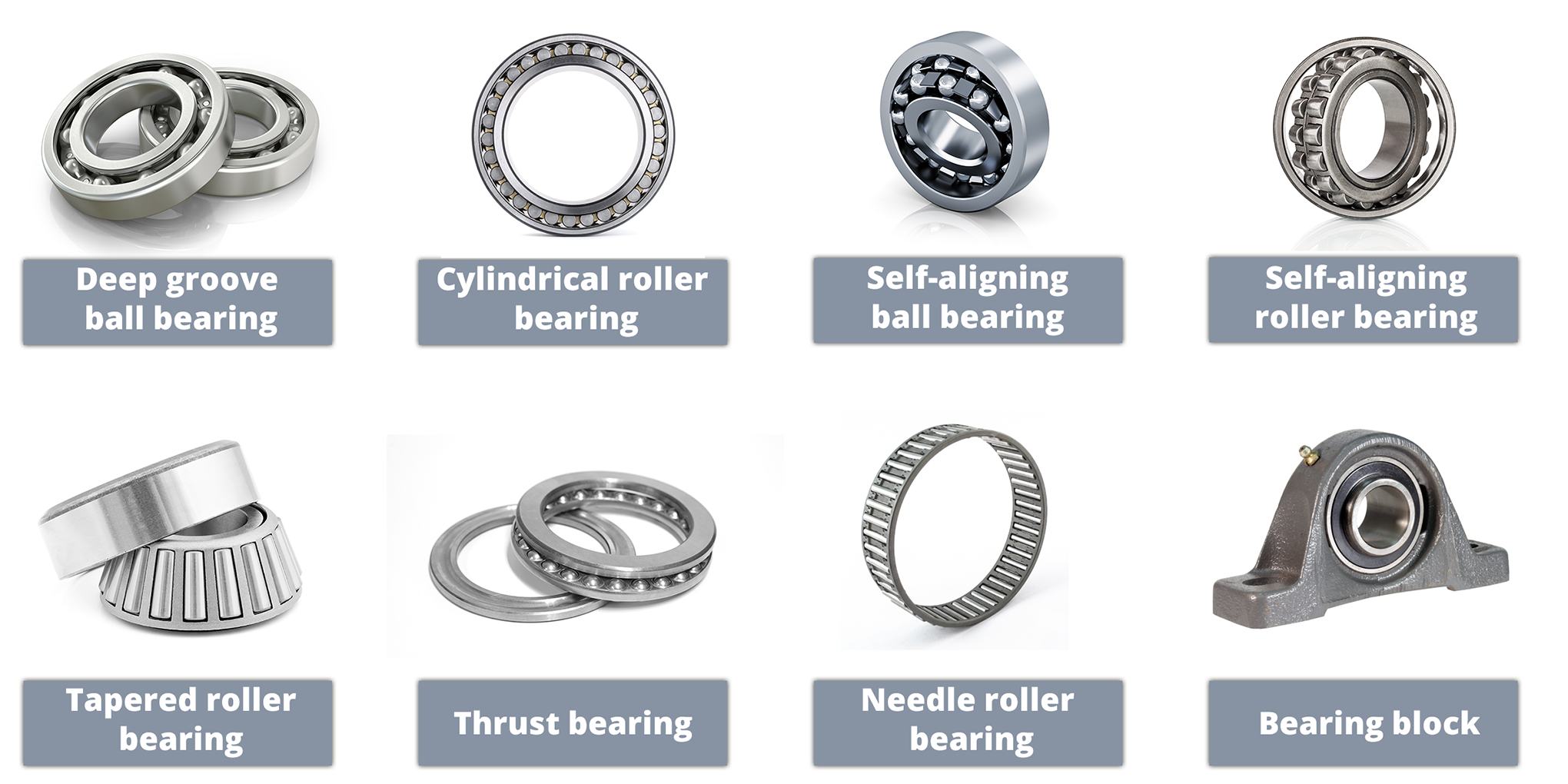 Different Bearings
What Factors Should You Pay Attention to when Choosing a Bearing?
Manufacturers choose the bearings for their machines extremely carefully, balancing cost, energy-efficiency, size, speeds, operating conditions, service life and more. It's essential when fitting a new bearing that you have ordered the right one for the particular machine. The first place you should always look is the manufacturer's service manual. Any parts which may need replacing should be detailed here, including the specifications you will need.
But while every piece of machinery is delivered new with a manufacturer's manual, we know as well as you do that not all of those manuals are kept, let alone kept somewhere readily accessible. Most manufacturers will be able to provide you with a PDF or even hard copy replacement manual. In the meantime, take a look at the bearings in our webshop.
Different Types of Bearings
When ordering your bearing, it is important to consider that every type of bearing has specific properties, depending on its design, which make it more or less suitable for certain applications.
Deep-groove ball bearings, for example, can withstand both radial and axial loads. They cause little friction, can be produced with high precision and can provide near-noiseless performance. They are therefore preferred for use in small and medium-sized electric motors.
Spherical bearings can withstand very heavy loads and can adapt to various applications, making them particularly suitable for use in heavy industry, where heavy loads can lead to deformations and misalignments.
7 Factors that Define the Best Bearing for the Job:
The load
Each bearing is designed to withstand a certain amount of load. Choose a bearing that can't take the load, and it either won't work, will work poorly, or will fail far sooner than it should. Always consider the load.
Misalignment
Where you are faced with poor alignment, it's best to opt for a suitable self-aligning bearing; a fixed bearing will only be appropriate when the alignment is right.
Available space
Unsurprisingly, the confines of the area where the bearing operates can be restrictive. A small space requires a smaller bearing, inevitably. Check the dimensions and refer to your user manual.
Precision
Bearings require choosing, fitting and adjusting with measured precision. The wrong bearing, or a badly fitted bearing, can result in vibration, a reduced lifespan, and even damage to the machinery. Read our guides to mounting a bearing and adjusting a bearing for more information, and verify the specification of the required bearing in your machine manual.
Rotational speed
A large bearing can withstand a smaller maximum rpm than a small bearing. Likewise, there is a difference between ball bearings and roller bearings: ball bearings have a point contact while roller bearings have line contacts. A bearing can handle greater rotational speed the smaller the contact point is.
Rigidity
How much play do you need? Without the right clearance, bearings simply will not rotate. The less play it has, the stiffer it becomes. It's a fine balance, so always measure carefully and refer to the manufacturer's guidance for that particular bearing placement.
Axial displacement capability
Depending on the operating temperature, the machine itself can expand or shrink. That can change the space available for mounting bearings, so knowing that you have a bearing that will be unaffected by any shrinking or expanding is essential.
Ultimately, you want to replace like for like, and to aim for the highest-quality bearing available for the job. The manufacturer's manual is always the starting point for identifying the best bearing for a particular part. This must be the starting point, because someone else might have been maintaining the machine and in that case you cannot guarantee that the bearing you are looking at is best for the job. If you cannot locate the manual, and if you cannot identify the bearing type with absolute certainty, contact your Kramp product specialist or find a Kramp dealer near you. They're here to help you and help you provide the highest standards of service to your customers. You could also contact us for questions via knowledgecenter@kramp.com.