The comfort of ordering at Kramp from your own Dealer Management System
Editorial team
|
3 minutes to read
Having a good and accurate ordering process at your supplier is essential. It will help you to keep track of purchase amounts, prices and delivery conditions. An important aspect of ordering at your supplier is: having the correct information. It allows you to answer questions like; is the product on stock, what is the best price and is there an alternative product available.
As you handle many ordering, bookkeeping and administration processes in your own Dealer Management System (DMS), it would make sense to also use your Dealer Management System to order directly at Kramp.
We noticed that many Dealer Management Systems are really strong in administration and in supporting you with your daily work processes. They are less suitable to present to you all the detailed information of supplier products and assortments.
So what is our solution?
We believe that a combination of strong processes within your Dealer Management System, extended with the correct and detailed product information of the Kramp webshop will bring you the comfort and speed of ordering at Kramp. We call this solution: 'OCI', short for Open Catalog Interface.
Why use OCI?
Always up to date product information available via the Kramp webshop
Actual stock- and price information
No extra maintenance for product information is needed in your own Dealer Management System
Streamline your order process at Kramp in your own Dealer Management System
No double entry of data in systems
Can anyone start with OCI?
Yes, Kramp offers the OCI solution for free. You have to contact your own Dealer management system provider if they are already capable of using OCI.
Will I still be able to use the Kramp webshop?
Yes, the Kramp webshop will be your starting point to order products at Kramp.
How does this work?
The image below shows all nine steps of ordering at Kramp directly from your Dealer Management System.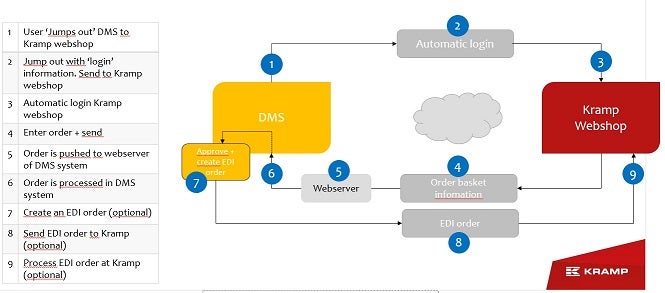 How do I start with OCI?
Contact your own Dealer Management System provider. Would you like to learn more about our OCI solution? You'll find more information here.
Your Kramp account manager is more than happy to support you in this process!