What are the options for respiratory protection?
Editorial team
|
5 minutes to read
It is important that the respiratory protection you choose is suitable to best protect your employee from harmful substances in the air. In the article 'Why and when do you need respiratory protection?' you will find more information on the importance of the right respiratory protection. But what types of respiratory protection can you choose from? And what should you pay attention to when buying one? We share our tips and tricks with you.
What types of respiratory protection are there?
There are two types of respiratory protection to choose from:
Dependent breathing protection
Self-contained breathing protection
Self-contained breathing protection incorporates a filter through which you inhale the ambient air. This type of respiratory protection can only be used when there is sufficient oxygen in the work environment. Self-contained breathing protection is required when the oxygen level in the ambient air is too low, if hazardous substances are present in the air. With this type of protection, supplementary oxygen must be supplied from another source, for example a tank.
What is dependent respiratory protection?
Dependent breathing protection depends on the ambient air, such as masks and filters. Filters ensure that harmful substances are removed from the air. Dust filters are suitable for filtering out particles. Gas filters do the same for harmful gases. There are also combined filters for particles and gases.
Types of dependent respiratory protection:
Filter masks
Fine dust masks
Motor-powered systems
Protection classes for dust filters
Particle filters provide effective protection against bacteria, most types of smoke, dust and fibres in accordance with standard EN 143. Filters that capture dust are denoted by the letter P followed by a number. The higher the number, the finer the dust that is filtered. There are three protection classes for this:
Dust mask P1: protects against coarse dust particles, e.g. stone dust or wood chips. This type of mask does not offer full protection against bacteria.
Dust mask P2: protects against dust particles and harmful substances. However, this mask does not offer 100% protection.
Dust mask P3: the safest option. This mask offers protection against particles, toxic substances, bacteria and gas fumes.
Filter masks are worn on the user's face. The traditional dust mask covers half the face and filters particles. There are also half-face masks that filter gases and vapours, or a combination of these. Filtering half-face masks are also available with interchangeable filters against dust particles, gases or vapours. You can also buy full-face masks with interchangeable filters.
Single-use masks (face masks): these masks are suitable for filtering relatively harmless types of dust in low concentrations. The protection class for this mask is P2. The advantage is that you use a new mask for each job. This is hygienic and ensures minimal cleaning after work. The disadvantage of these masks is that they only capture 80% of the dust, exposing the user to risks.
Half-face masks: these masks have the same function as a single-use mask, but the advantage is that they fit the face better. The mask can be used several times. However, maintenance and cleaning is then required. Half-face masks are used in combination with various type of filters: dust filters, gas filters or a combination of both.
Full-face mask: this mask is used when high concentrations of harmful substances are in the ambient air. With this mask, not only the airways but also the user's eyes are protected. A full-face masks are also used with various filters. Keep in mind that while using the P3 filter, breathing may be heavier. An exhaust valve prevents condensation inside the mask. This mask can quickly feel warm and restricted due to the P3 filter. A good fit is therefore extremely important. A fit test ensures that the mask is suitable for the user (read more about Face Fit Tests for respiratory protection in our article on choosing the right respiratory protection).
ABEK gas filters: in order to be well protected against hazardous vapors and gases, it is important to always use the correct type of filter, e.g. an ABEK filter. Gas filters must comply with the EN14387 standard. An ABEK filter is a multiple gas filter that protects against multiple types of gas or vapor such as several types of gases, organic and inorganic vapors, sulphur dioxide and ammonia. Each gas filter has a specific colour code. The colour tells you which harmful gases and vapours the filter protects against (see tabel below).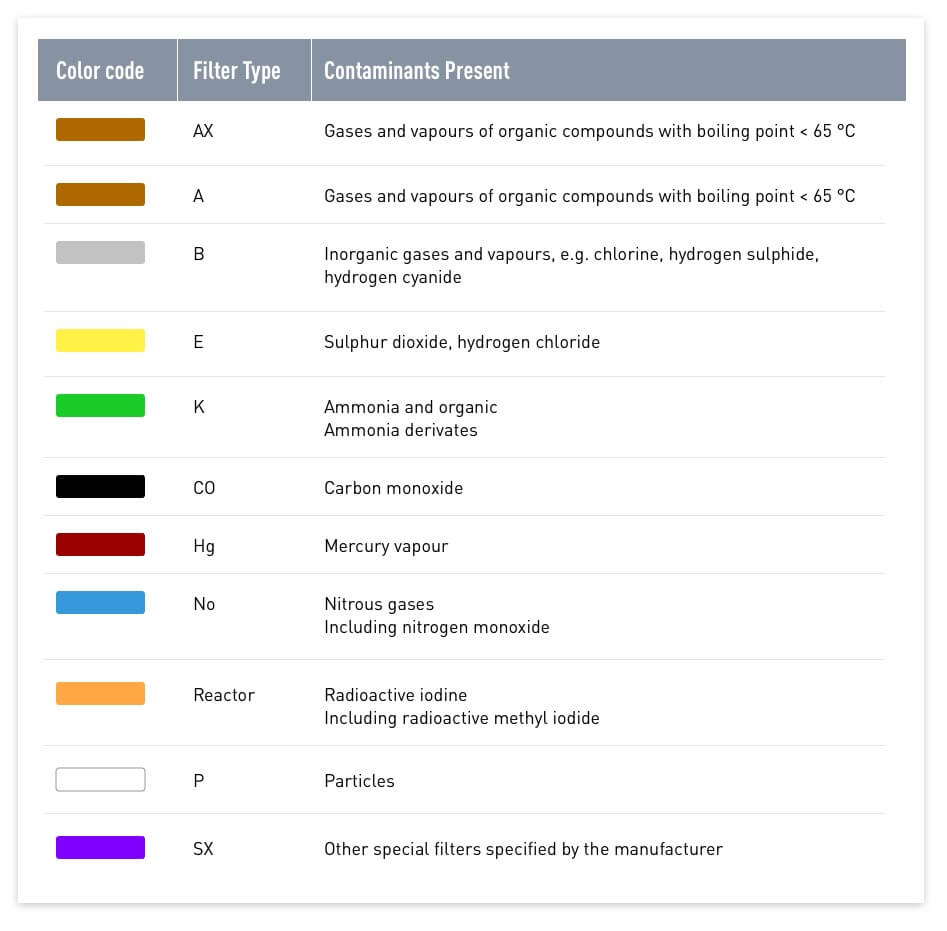 Colour codes ABEK
These are masks that provide protection only against fine dust particles such as dust particles, mist, air droplets, fibres and micro-organisms. They are used in combination with filter canisters against the above substances. The fine dust masks are developed for single use. For fine dust masks, you can choose between different fits, protection (P1, P2, P3) and with or without a valve. In the agricultural sector, we recommend fine dust masks with a protection value of at least P2.
Motor-driven systems ensure that breathing air is not supplied by the user, but by a fan. This provides extra comfort for the user. The advantage of this system is that you always get new, fresh air. This ensures that you can keep working longer and with greater ease in a challenging environment.
What is self-contained breathing protection?
Self-contained breathing protection is not dependent on ambient air. Unlike dependent breathing protection where the immediate ambient air is filtered, independent breathing protection has its own source of clean air. These are sealed air capsules that deliver pure air to the user through a mask, hooded helmet or suit. Carrying air capsules yourself gives more freedom of movement, but you sacrifice comfort due to the weight. Using self-contained breathing protection requires training as well as a periodic medical examination.
In many situations, self-contained breathing protection is an absolute requirement:
if the air contains substances subject to special regulations
if the air contains substances without warning properties
if the air is too polluted
if there is too little oxygen
if there is a risk that oxygen levels may decrease (e.g. in confined spaces)
Types of self-contained breathing protection
There are two types of self-contained breathing protection:
Compressed air: when a filter cannot be used, for example when working in enclosed spaces, or when the harmful substance has no odour threshold. In this situation, it is not possible to determine whether a filter canister is saturated. Air flows out of a filter system with compressed air and is then passed to the mask via a compressed air hose. For the air hose, a special mask is required that you can order through your supplier.
Oxygen cylinder kit: when compressed air is not an option because the protection needs to be mobile or when there is no network with compressed air available to connect to.
Self-contained breathing protection should always be used in each of the following circumstances:
when working in an enclosed space
when the oxygen concentration is less than 19%
in the presence of a special substance or oxygen displacing gas
when exceeding the maximum permissible concentration of contaminants for filters. 
Tips for buying a mask
Know which protection you need for your mask: P1, P2 or P3?
Some filters are made up of layers. This means that the filter not only protects the wearer for longer, but sometimes also at a higher level. See, for example, this filter. Always make sure you know exactly what you need to be protected from.
Check the mask's leaflet. Does it protect you from the substances, gases or vapours you are going to use?
If yourself or the person you are buying the mask for wears glasses, you should buy a mask specifically designed for people who wear glasses.
Buy a mask with a filter as it provides better protection.
Check that the mask fits properly. You can roughly determine this by placing your hand over the filter; if you cannot breathe air when the filter is blocked, the fit is probably good. However, it is wise, and in some cases even required by law, to carry out a fit test at an authorised person or company.
Are you using a single-use mask? Throw these away after use. The protection of these masks decreases with repeated use.
If you need help choosing the best respiratory protection equipment, read 'Finding the right respiratory protection in 5 steps'. You can also contact your Kramp account manager and ask for expert advice from a product specialist.