Which work lights do I need to do my job properly?
Firdaouss Amchich
|
6 minutes to read
When working in the dark, it is important to have the correct lighting conditions. This ensures that it is done safely and efficiently and reduces the risk of accidents and damage. How much and what light is needed to do your job properly depends entirely on the work.
Benefits
The right colour temperature of lighting has a major influence on people's reaction and performance. Too weak or dull light causes you to get tired faster. Even lighting also ensures relaxed vision. In short: with the correct lighting, the chance of making mistakes is reduced and dangerous situations can be detected at an earlier stage. That is why it is extremely important to choose the correct lights.
Types of work lights
When buying work lights, you should know that there are three main types of work lights. Below you will find more information about each type.
Halogen work lights
The design of the halogen work lights has been improved over the years. The challenge lay mainly in the fact that the bulb produces a lot of heat. It is only possible to dissipate this heat if the lamps are relatively deep. The lamps have a darker, warmer colour and are known for their shorter service life and high energy consumption.
Xenon work lights
Xenon technology has significantly improved the light output of work lights. The light is bright, but does not consume more power. On the contrary. It does take a while for the gas to warm up, so that the lamp does not give immediate full output of light. The higher costs and complexity are a disadvantage. However, the lamps do consume considerably less energy than halogen lamps when the ideal temperature is reached and they have a longer service life.
LED work lights
Compared to the halogen work light, the LED work light consumes relatively little power. LED technology is much more advanced than the two aforementioned technologies. LED lighting scores considerably better in terms of lifespan, efficiency and light output.
LED lighting has the future
In many areas, LED lighting scores better than the other types of lamps. Light output in combination with lifespan is already approaching an ideal situation. The purchase price for lighting has also become considerably lower. When it comes to sustainability, this light source also wins. The image below clearly shows that LED lighting produces more lumen per watt, so in other words: the same amount of light with less energy consumption. The light output per LED is still in full development, but it can already be said that it is economically more interesting. A number of other advantages:
more efficient in use;
emits little heat*;
the colour of the light is more pleasing to the eyes;
looks trendy;
available in all shapes and designs.
*This can also be seen as a disadvantage in some cases, for example in winter when clearing snow. Fortunately, a solution has also been found for this, namely special LED work lights with a heated lens.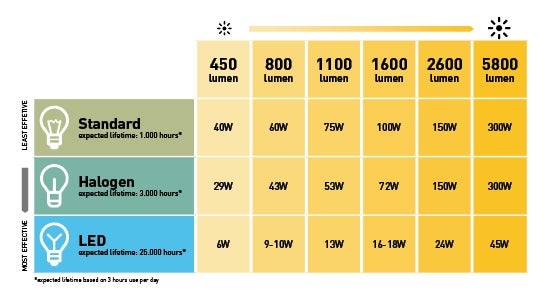 Type of work lamps
To determine what type of work light you need, you first need to find out which area you want to illuminate and how large that work area is. The outcome of this determines which light intensity and beam angle you need. The right lighting is different for each application. You can choose between a far-reaching, narrow beam (illuminator or spotlight) or a short, but intensive ambient lighting (wide beam or flood). Do you want a combination of both? So if you have light in the width as well as in the distance, then you can choose a combined floodlight.
Flood
The flood type work light is mainly used to illuminate large outdoor areas to increase safety and visibility, for example near a tractor or vehicle. The greater the power (W), the more lumen. Good to know: working lights with LED technology provide more light than the conventional incandescent lamp working light. LED work lights from 1600 lumens are the most common. Range approx. 20 to 40 m, wide scattered.
Spot
Do you need visibility, for example, to see the edges of the field or hay bales in the field in time? Then we know the spot type of work lights. These LED lights have a bundled beam of light. The more power there is, the further the beam of light reaches. Range between > 40 m to 150 m. Above all closely scattered approx. 12-15° to the left and right.
Combo
The combo type working light shines through a clever construction of the lens both wide and far away. Ideal if you actually want to have good visibility both far and near. For example during the grass chopping later in the evening.
When working in teams, for example during the harvest period or in construction, it is sometimes wise to choose working lights with less lumen or with a special lens technique so as not to dazzle others. Especially for this purpose we have a specific range of construction lamps from among others Nordic and Kramp.
Tips for purchasing work lights
See the current situation;
Get to know the technology you're using now and weigh the pros and cons against each other. Perhaps there is a technology that better suits your needs.
Determine light intensity;
Observe the working area to find out what light intensity is needed. For this you need to know what type of work light you need.
Waterproof;
Looking for lighting suitable for high-pressure cleaning? Please take into account a type approval of IP69K. This means that the working light is 100% waterproof.
Electromagnetic radiation;
LED lighting with relatively high power can cause EMC interference on the radio. It is important to keep an eye on whether the work light is equipped with EMC interference. There are different gradations in this. A simple solution for this can also be the use of a choke, such as FC05T/FC13T. These should be placed on the power cable as close to the radio as possible. Furthermore, avoid that LED lighting and radio are connected to the same power cable.
Warranty period;
It's important to know where you stand. A good guarantee period often says something about the quality of the work light.
Are light bars road legal?
Please note that you are only allowed to use these work lights on your own premises. The use on public roads is officially not allowed. This is often referred to on the packaging as 'off-road use only'.
Do you have a question or do you want to know more about work lights? Please feel free to contact your account manager.